About us
ahead of the game, we are future ready !
Our Company
Star Switchgears is a leading manufacturer of power switchgear panels, providing energy-efficient solutions to effectively manage and regulate smarter power. With over 3 decades of experience we meet the complex and varying needs of customers with a wide range of products tailored precisely for each industry segments. The company has been recognized for its consistency in producing reliable and durable power protection panels across the nation.

Incepted in the year 1980 as a partnership firm by Mr. K.B. Ramachandran and Mr. A. Meeran, we are the pioneers in 11 KV Metering and Switching stations using load break switches or vacuum circuit breakers. With a clientele of over 300 large-scale industries, we have earned a renowned name in service, economy, innovative design and faster delivery of panels across India and overseas.
Today, we enjoy approvals from multiple Electricity Boards, ISO 9001:2015 Quality Control approval and Central Power Research Institute of India. Our products have undergone numerous tests conducted by CPRI and have been approved for providing safe, reliable, efficient and economic industrial grade protection panels year after year.
This is to certify that M/s. STAR Switchgears, have successfully completed the supply of MV Switchboards valued at about 1 Crore Rupees for the Electrification works of 22MW Co-Generation Plant of M/s Shamanur Sugars Ltd Davangere District, Karnataka

This is to certify that 5000A Aluminium Bus Ducts (12m long x 2 Nos) were purchased for our plant. It is working satisfactorily till date.

Our sincere thanks to M/s Star Switchgears for the excellent support extended to the commissioning of the 2nd unit of 36MW captive power plant. Our ferro alloy production plant control schemes, design and engineering has been completely executed by Star Switchgears and are in excellent order.

We have received 4 LT power control centres of 4000A busbar ratings with 4 Nos of 4000A 4 pole incomer ACBs and 5 Nos of bus couplers of 4000A, 4 pole ACBs of GE make. The total length of panel is 28 meters with 64 Nos of Mpact ACB feeders of 630A to 2000A ratings.
---
Our Infrastructure
Our manufacturing facility is well equipped with automated cutting and bending CNC machines with a well-trained team to handle challenging design requirements while maintaining industry standards.
We have developed a sophisticated infrastructure over an area of 15,000 square feet, which is certified per ISO 9001:2008 standards and under regular interval inspection to maintain quality control at all times for every product manufactured from our shop floor.
Further, we are backed with the computer-aided machines to perform precise fabrication of panel structures, listed below are machines at our shop floor:
---
80 tons CNC Computer numerical control Hydraulic press brake machine
80 tons Hydraulic power shearing machine
40 tons Punch press machine
Aluminum profile triple force machine
Quality control inspection equipment's
Drilling machines, Drilling pedestals, Surface grinding machines
Air & oil cooled welding machine and Air compressors
ISO certified High Voltage (up to 28KV) test environment section
Our Mission : Uncompromised Protection
Research oriented
Our in house consultants, dedicated research and development team stay abreast with innovative products, ensuring industrial grade optimized design solutions.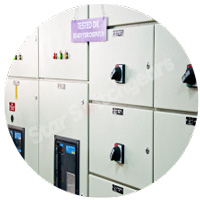 Quality control
Sensitive equipments like relays, plc, circuit breakers are crucial to the efficiency of our panels, we scrutinize the best in the industry for precision performance.
CPRI tested designs
Our panels designs have undergone numerous tests at CPRI labs approved for production, in compliance with IEC standards. Approved by local utilities for safe and reliable operations.
After sale support
Our dedicated service engineers are available on call to visit your site for any service or maintenance requirements, on every product from our shop floor.